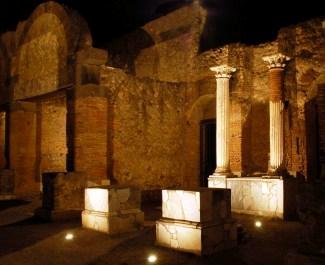 Hotel near the entrance of archeological excavations: A Windows on History
The emotion felt by our customers the first time that we welcome them in one of our suites with a direct view of the archaeological excavations, is still one of the most gratifying rewards of our daily work.

The magical, rarefied air amphitheater lit up at night, the views of its buildings still intact, perfectly preserved under a blanket of ash of the eruption of Vesuvius, seems to have preserved even the beat of hoofs on the gravel road and the voices of chaotic merchants. The feeling of being in a city still alive in all its entirety, that still does not accept that he had instead stopped suddenly.